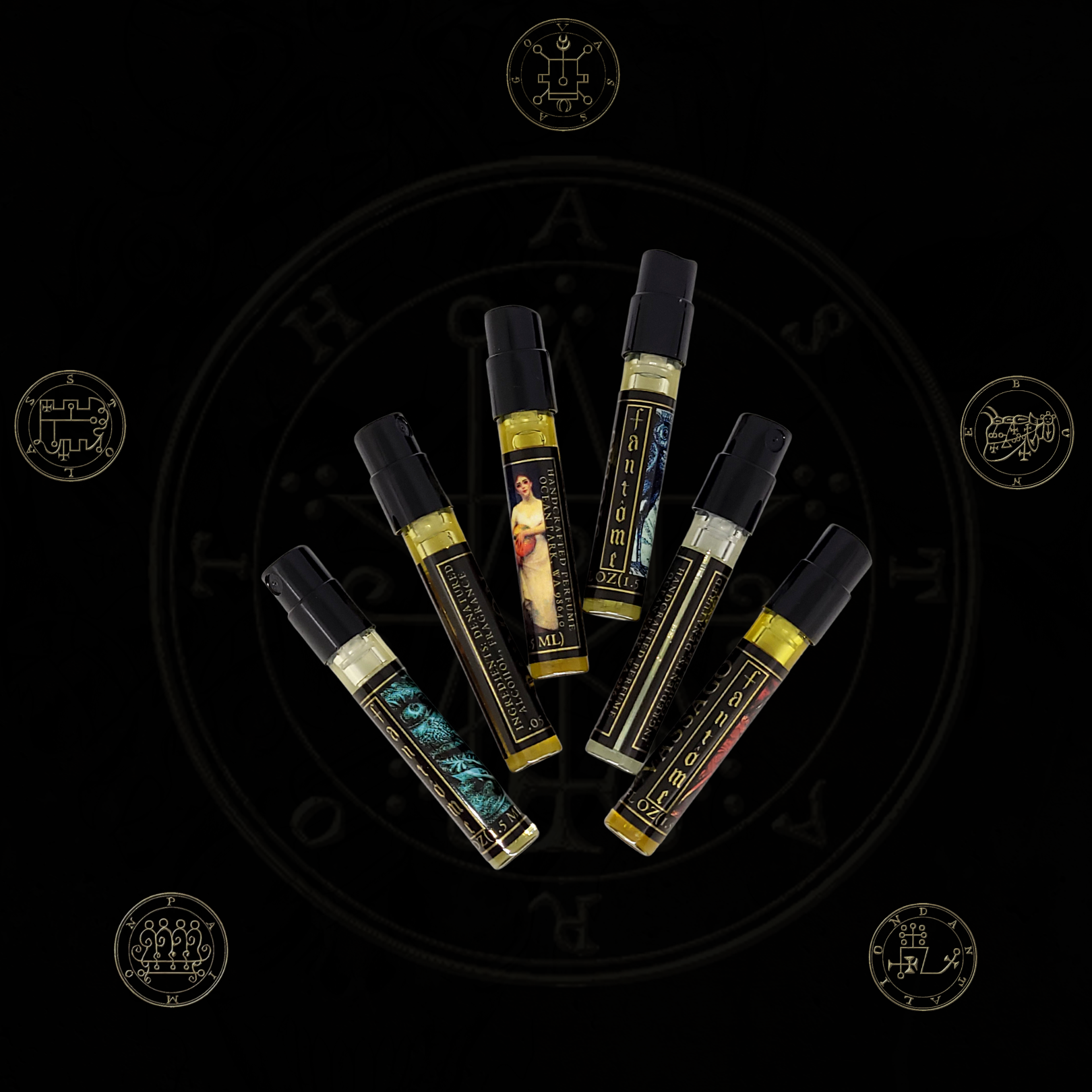 EDP Sample Pack - Goetia Collection (6 Scents)
Regular price $49.50 Unit price / per
An easy, more affordable way to become familiar with our Goetia Collection. This sample pack contains all six scents from the collection in 1.5 mL EDP (extrait-strength parfum) glass sample bottles with spray tops.  
Extrait de parfum. Ingredients: denatured alcohol (isopropyl myristate for international orders), fragrance.
The first of five books that comprise the Lemegeton, the Ars Goetia is one of the most infamous grimoires of modern occult studies. The word Goetia is derived from the Greek word "goeteia" for "sorcery."
Astaroth
Ripe peaches, pumpkin flesh over a bed of red musk, honey* cakes drizzled with white chocolate, & roasted pistachios

Bune
Damp subterranean air, nagarmotha, smooth cave walls, davana, a cold marble altar, & glittering green dragon scales

Dantalion
Creamy chai tea, obscuring mists, sandalwood, a plaster mask, clarifying ginger, carnations, dandelions, & a melted beeswax candle

Paimon
Hot sands, holy frankincense, sanctified myrrh, sun-bleached parchment, vanilla, black amber, coconut husk, a king's golden crown

Stolas
Bluebells, an unburnt cedar offering, cool night air, lavender, soft owl feathers, blueberries, & a hint of dark chocolate

Vassago
A silver dagger, red wine mulled with blackberries, cloves, & orange peels, a goblet of blood & a black mirror